If you want to route documents that are not Microsoft Excel or Microsoft Word documents (i.e. add a routing slip to an Adobe© PDF file for sequential routing, or JPG, BMP, etc.), you may still do this with Office Routing Plus™. Microsoft Word and Microsoft Excel have a feature that allows you to easily embed any type of document within the Word or Excel document. Once the document has been embedded into the Microsoft Word or Microsoft Excel Document, use Office Routing Plus to route the document as you would any other document. Use the following instructions to embed an alternate file type into a Word or Excel document.
1. To embed an alternate file into a Microsoft Word or Excel document click on the "Insert" tab and select "object" from the "Object" dropdown box.


2. Select the "Create from File" tab.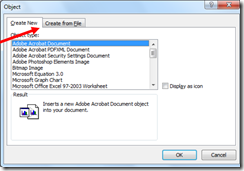 3. Select the "Browse" button and select your file. Any type of document can be selected. (The most widely used files are a PDF, Bitmap, JPG, etc.)  Click the "Display as icon" button and then click OK.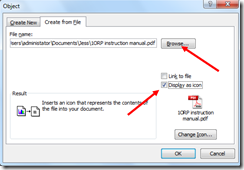 4. Your document should show as an icon as seen below.

5. Double clicking on the icon will open the document. The document will open in whatever
default program is associated with the file type. (In the case below, Adobe Acrobat © was
used.)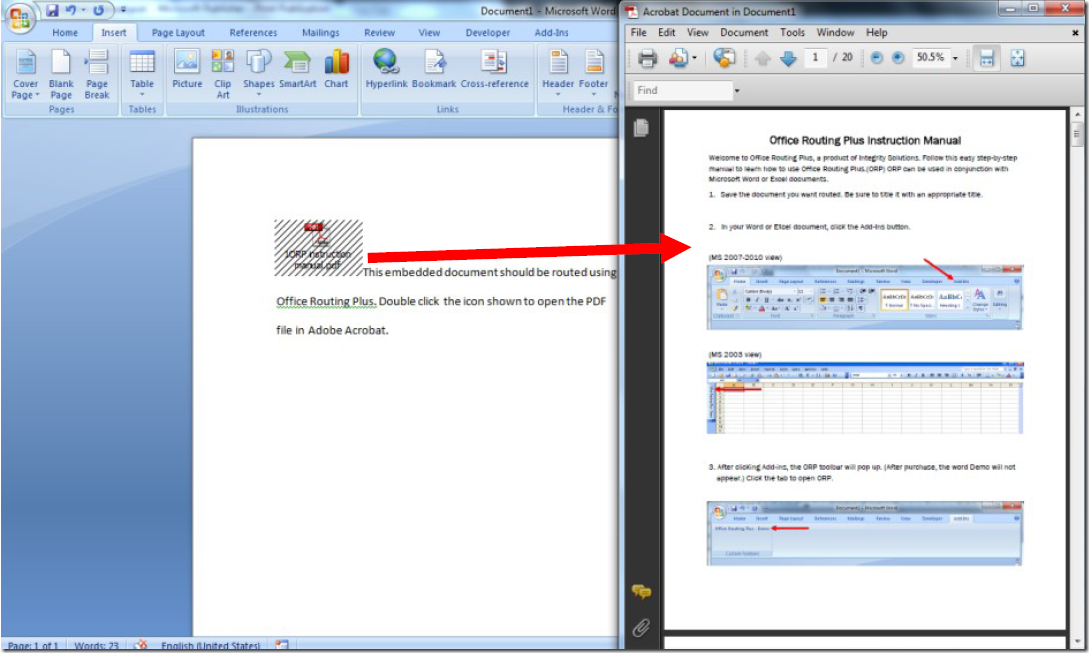 6. Now use Office Routing Plus to route this document as you would a Microsoft Word or Microsoft Excel document.